Riverbend bed and breakfast guest house has a large ground level guest accommodation area that can be configured to accept a variety of accommodation requests and budgets. We aim to remain affordable Chilliwack lodging by offering cheap group rates.
All guests of the Retreat Room & Slesse/Cheam rooms have a private entry, private bathroom(s) and access to a 550 square foot furnished covered deck (outdoor smoking area) with a barbeque. A central guest lounge with microwave, fridge, dining table, couches, TV/DVD, wifi, DVDs, book library and board games, computer, woodstove for drying fishing gear, and snacks are available for your relaxation times!
NOTE: You can reserve private use of these amenities for groups of up to 6- see our Riverbend Special !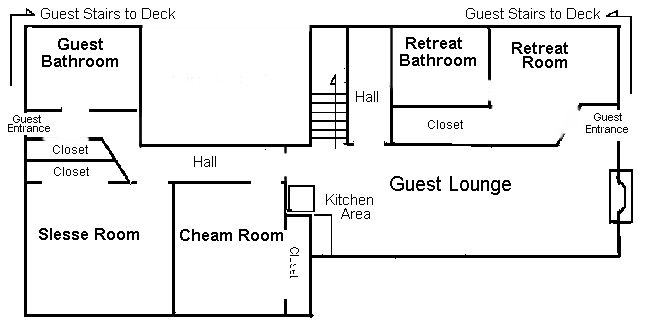 Guest Rooms / Suites:
All rates are quoted in Canadian Currency. Use our Curency Converter to convert rates into your own currency.
There is a 2 night minimum stay year round with no refunds for early departures
Specified rates are room-only and do not include food. Light continental breakfasts can be added for $10 per person. Cooked breakfasts can be added for $20 per person.

SLESSE/CHEAM ROOMS
These rooms are rented together to accommodate 2-4 people
This is a great low cost option for families or friends travelling together who like lots of space and a bathroom between them with separate bedrooms. Both the Slesse and Cheam rooms have 2 twin beds (4 beds altogether) (Max: 1 to 2 guests per room)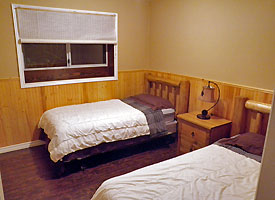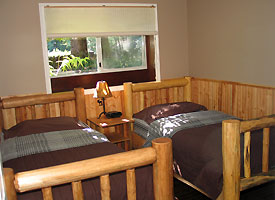 Slesse/Cheam Rates:

$135 to $155/night (2-4 guests)
THE RETREAT ROOM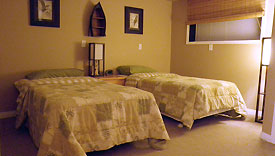 This spacious bedroom has an en suite bathroom with walk in shower and is tucked away behind the Guest Lounge. There is a private entry/exit directly opposite the Retreat. Guests have access to a common lounge/kitchenette area and outside sundeck area. There is a King size bed or 2 twins.
Retreat Rates:
$125 per night

RIVERBEND SPECIAL: a 3 bedroom, 2 bathroom option with private use of Guest Lounge/kitchenette and a maximum of 6 guests is $260-$280 per night. Food options can be added at extra cost. The Riverbend Special gives you private access to 1000 square feet of living space and is an great option for low cost group accommodation for fishermen. Discounts apply for stays longer than 7 days.
RIVERBEND CABIN
The cabin has a King size log bed frame or 2 twins plus a pull out sofabed. The cabin sleeps 1-4 people. It has a bathroom, kitchenette (no stove), tv/dvd, bathroom, and table/chairs.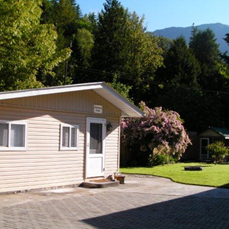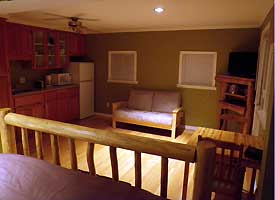 Cabin Rates:
$150 to $175/night (1-4 guests)
Our Chilliwack lodging includes our Vedder River Cabin, Retreat Room, and Slesse/Cheam rooms. The Riverbend Cabin sleeps 2-3 and the Retreat room and Slesse/Cheam rooms accommodate up to 6 guests. A total of 8-9 fishermen guests can be accommodated at our Chilliwack B&B. Inquire by email or phone for details.
Please e-mail for other rates & food services available and state dates, number in party and type of food services required including any allergies, food aversions or special diets.
Please Note: If a deposit is not received ahead of the reserved time period via Pay Pal, Traveller's Check or Money Order, rooms may be rented on a first come, first serve basis.
Also please note:
ALL refunds are at the discretion of management. As we have reserved rooms for you we offer no refunds for late cancellations or early departures unless rooms are re-rented for same dates.
Before booking, please read our reservation methods and policies